Expell and ExpellPlus Racked Pipette Tips

CAPP Racked Pipette Tips: Superior Quality Swiss-Mold-Made Pipette Tips
Discover the exceptional world of CAPP Racked Pipette Tips! Manufactured with precision on superb quality Swiss injection molds, both Expell and ExpellPlus racked pipette tips offer universal compatibility with the majority of pipette brands on the market. Enhance your pipetting experience with tips designed to support a wider range of applications, available in different lengths within the same volume range.
Autoclavable Racks in Space-Saving Dispenser Boxes
Say goodbye to hassle and welcome convenience! CAPP racked pipette tips come in autoclavable racks, packaged in user-friendly and space-saving dispenser boxes (see picture below). Each box includes 10 racks (8 racks for 1mL tips), making organization and access a breeze. Crafted from virgin polypropylene, all CAPP racked pipette tips are RNase, DNase, and Pyrogen free certified, ensuring optimal sample integrity and safety.
ExpellPlus: Revolutionize Your Pipetting Results
Introducing ExpellPlus, the pinnacle of pipetting performance! Our ExpellPlus racked pipette tips boast unique low retention properties, significantly reducing sample binding and minimizing sample waste. Experience unparalleled precision and accuracy in your pipetting results with these game-changing tips. Choose from filter and non-filter tips, available in sterile and non-sterile versions or opt for our convenient reload system.
Elevate Your Pipetting Experience with CAPP Racked Pipette Tips
Experience the power of CAPP Racked Pipette Tips and elevate your pipetting to new heights. With universal compatibility, impeccable quality, and a range of options to suit your specific needs, these tips are the ultimate solution for laboratories, research facilities, and beyond. Invest in precision, convenience, and reliability with CAPP, the trusted name in pipette tips. Upgrade your pipetting experience today!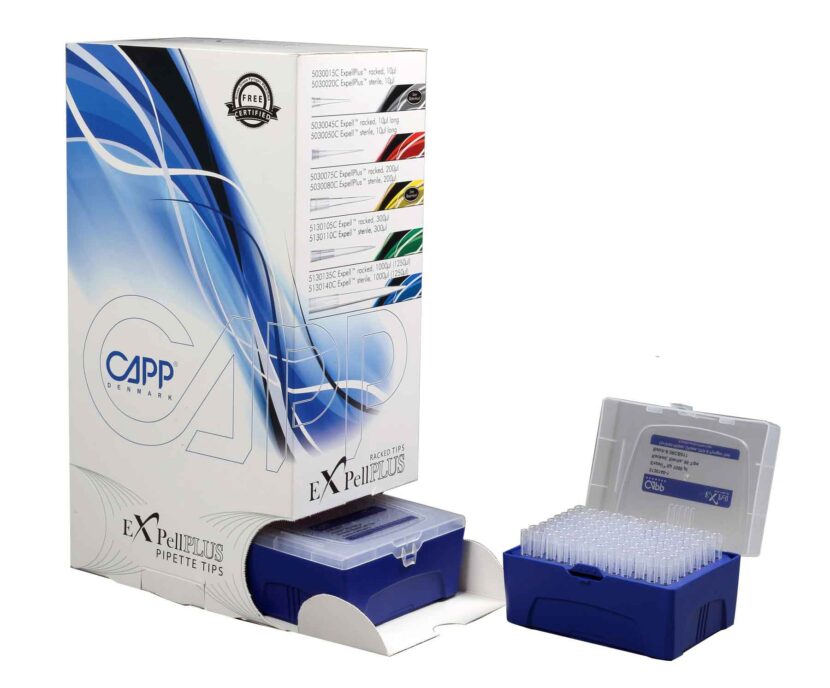 | Cat. No. | Description |
| --- | --- |
| 5030015C | Expell 10µL, hinged racks, 5x10x96 pcs. |
| 5030020C | ExpellPlus 10µL, sterile, hinged racks, 5x10x96 pcs. |
| 5030030C | ExpellPlus 10µL, sterile w/ filter, hinged racks, 5x10x96 pcs |
| 5130030C | Expell 10µl, sterile w/ filter, hinged racks, 5x10x96 pcs. |
| 5030045C | Expell 10/20µL XL, hinged racks, 5x10x96 pcs. |
| 5030046C | Expell 10/20µL XL, Extra Narrow, hinged racks, 5x10x96 pcs. |
| 5030050C | ExpellPlus 10/20µL XL, sterile, hinged racks, 5x10x96 pcs. |
| 5030051C | ExpellPlus 10/20µL XL, Extra Narrow, sterile, hinged racks, 5x10x96 pcs. |
| 5030060C | ExpellPlus 10/20µL XL, sterile w/ filter, hinged racks, 5x10x96 pcs |
| 5130060C | Expell 10/20µl XL, sterile w/ filter, hinged racks, 5x10x96 pcs. |
| 5030061C | ExpellPlus 10/20µL XL, Extra Narrow, sterile w/ filter, hinged racks, 5x10x96 pcs |
| 5130061C | Expell 10/20µL XL, Extra Narrow, sterile w/ filter, hinged racks, 5x10x96 pcs |
| 5030062C | ExpellPlus 20µL, sterile w/ filter, hinged racks, 5x10x96 pcs |
| 5130062C | Expell 20µl, sterile w/ filter, hinged racks, 5x10x96 pcs. |
| 5030066C | ExpellPlus 100µL, sterile w/ filter, hinged racks, 5x10x96 pcs |
| 5130066C | Expell 100µl, sterile w/ filter, hinged racks, 5x10x96 pcs. |
| 5030075C | Expell 200µL, hinged racks, 5x10x96 pcs. |
| 5030080C | ExpellPlus 200µL, sterile, hinged racks, 5x10x96 pcs. |
| 5030090C | ExpellPlus 200µL, sterile w/ filter, hinged racks, 5x10x96 pcs |
| 5130090C | Expell 200µl, sterile w/ filter, hinged racks, 5x10x96 pcs. |
| 5130105C | Expell 300µL, hinged racks, 5x10x96 pcs. |
| 5130110C | ExpellPlus 300µL, sterile, hinged racks, 5x10x96 pcs. |
| 5030115C | ExpellPlus 300µL, sterile w/ filter, hinged racks, 5x10x96 pcs |
| 5130135C | Expell 1000µL (1250µL), hinged racks, 4x8x96 pcs. |
| 5130140C | Expell 1000µL (1250µL), sterile, hinged racks, 4x8x96 pcs. |
| 5130150C | Expell 1000µL (1250µL), sterile w/ filter, hgd. rks.4x8x96 pc. |
| 5130121C | Expell 1250µL XL, hinged racks, 4x8x96 pcs. |
| 5130122C | Expell 1250µL XL, sterile, hinged racks, 4x8x96 pcs. |
| 5130123C | Expell 1250µL XL, sterile w/filter, hinged racks, 4x8x96 pcs. |
| 5030123C | ExpellPlus 1250µl XL, sterile w/filter, hinged racks, 4x8x96 pcs. |
Product literature (Download)