CAPP is pleased to offer a stellar line of Reagent Bottles suited to your various laboratory needs. Made from USP Class VI material and elegantly designed to ensure the best quality in use, our Reagent Bottles are suited for a wide range of applications – not to mention they come in a variety of sizes and volumes, making them the easy and best choice for all your liquid storage solutions. Effective, versatile, and well built; we will highlight in detail these features of our Reagent Bottles that set them apart and show you how you can benefit from having them in your lab.
Versatile Reagent Bottles
No product is complete without being versatile and CAPP Reagent Bottles are just that. They come in a variety of sizes, with both narrow mouth and wide mouth configurations. The narrow mouth options offer controlled access to bottle contents and reduced likelihood of spillage and are the perfect go-to choice for most liquid storage applications. The wide mouth options offer ease of access and are particularly handy for storing solid or crystalline contents. Our narrow mouth reagent bottles come in volumes 4, 8, 15, 30, 60, 125, 250 and 500 mL while the wide mouth options are 30, 60, 125, 250 and 500 mL. With this wide range of sizing and volume options, we are sure that CAPP's Reagent Bottles will meet the requirements of an equally wide range of laboratory applications.
Leakproof Reagent Bottles
All CAPP Reagent Bottles with bottle closures smaller than 100 mm are specially leak proof tested to withstand at least 635 mmHg for at least 15 mins while containing water. This industry standard quality control measure means you can rest assured that our Reagent Bottles will keep the contents you have placed within securely. A cutting edge semi-buttressed thread design ensures that the bottle caps, once screwed on correctly, can withstand any forces that would contribute to leakage.
Temperature-stable Reagent Bottles
CAPP Reagent Bottles boast excellent thermo and cryo stable properties since they are made from top quality, USFDA approved, USP Class VI virgin polypropylene and polyethylene. Both these materials are known for their temperature stability and the team at CAPP has leveraged their extensive manufacturing expertise to design Reagent Bottles in high density polyethylene (HDPE), low density polyethylene (LDPE) and polypropylene (PP) configurations. Our LDPE and HDPE configurations are rated to withstand from -100 to 120 degrees Celsius, making them an excellent choice for freezing in ultra-cold freezers without cracking or shattering! PP configurations are temperature stable from 0 to 135 degrees Celsius making them fully autoclavable and well suited for applications requiring sterilization. And since all caps for our Reagent Bottles are made of PP, they are also fully autoclavable.
Chemically Resistant Reagent Bottles
It is important that the containers used to store laboratory reagents do not react with them and when it comes to chemically resistant containers for your laboratory applications, you can be at ease knowing that CAPP's Reagent Bottles have got you covered. We have uniquely designed them using high grade low/high density polyethylene and polypropylene, allowing them to be chemically inert and not react with a wide range of chemicals and compounds, both organic and inorganic. CAPP Reagent Bottles are as such the excellent choice for both short- and long-term storage.
Contaminant-Free Reagent Bottles
You can surely agree that using lab materials that are free of contaminants is a critical part of ensuring accuracy in experimentation. As such, CAPP Reagent Bottles are produced in a 100K Class Clean Room Facility to ensure that at the time of shipment, all products are certified free of contaminants including DNases, RNases, and pyrogens. You can have peace of mind knowing that using CAPP Reagent Bottles will reduce the chance for contamination in your research and this is just another added benefit that makes our product stand out from others.
Simply try CAPP Reagent Bottles now!
CAPP Reagent Bottles are a quintessential part of any laboratory inventory and workflow. This article has outlined all the features that make them distinctive as a high quality and top tier product. From a wide variety of sizes, useful chemical and temperature resistance to quality leak proof builds and contamination free production, choosing CAPP Reagent Bottles is the right choice. So do not hesitate! If you are looking for a product that is effective, versatile, and well built, look no further. Visit our catalog for ordering information to find the right set of CAPP Reagent Bottles for you!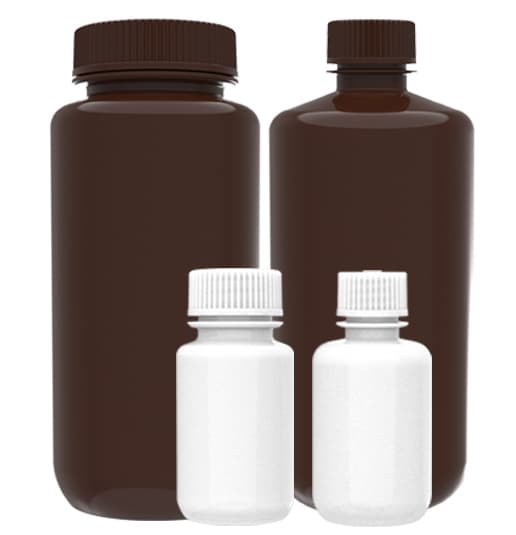 1
Versatile, Leakproof and Temperature-stable
2
White and Amber coloured
3
Narrow and Wide Mouth
4
PP, HDPE, LDPE material options
| Cat. No. | Description |
| --- | --- |
| PP Reagent Bottles, Narrow Mouth | |
| CAPP-PP-N-4 | Reagent Bottle with cap, Narrow mouth, Polypropylene, 4mL, 6x12 pcs. |
| CAPP-PP-N-8 | Reagent Bottle with cap, Narrow mouth, Polypropylene, 8mL, 6x12 pcs. |
| CAPP-PP-N-15 | Reagent Bottle with cap, Narrow mouth, Polypropylene, 15mL, 6x12 pcs. |
| CAPP-PP-N-30 | Reagent Bottle with cap, Narrow mouth, Polypropylene, 30mL, 6x12 pcs. |
| CAPP-PP-N-60 | Reagent Bottle with cap, Narrow mouth, Polypropylene, 60mL, 6x12 pcs. |
| CAPP-PP-N-125 | Reagent Bottle with cap, Narrow mouth, Polypropylene, 125mL, 6x12 pcs. |
| CAPP-PP-N-250 | Reagent Bottle with cap, Narrow mouth, Polypropylene, 250mL, 6x12 pcs. |
| CAPP-PP-N-500 | Reagent Bottle with cap, Narrow mouth, Polypropylene, 500mL, 4x12 pcs. |
| PP Reagent Bottles, Wide Mouth | |
| CAPP-PP-W-30 | Reagent Bottle with cap, Wide mouth, Polypropylene, 30mL, 6x12 pcs. |
| CAPP-PP-W-60 | Reagent Bottle with cap, Wide mouth, Polypropylene, 60mL, 6x12 pcs. |
| CAPP-PP-W-125 | Reagent Bottle with cap, Wide mouth, Polypropylene, 125mL, 6x12 pcs. |
| CAPP-PP-W-250 | Reagent Bottle with cap, Wide mouth, Polypropylene, 250mL, 6x12 pcs. |
| CAPP-PP-W-500 | Reagent Bottle with cap, Wide mouth, Polypropylene, 500mL, 4x12 pcs. |
| HDPE Reagent Bottles, Narrow Mouth | |
| CAPP-HD-N-4 | Reagent Bottle with cap, Narrow mouth, HDPE, 4mL, 6x12 pcs. |
| CAPP-HD-N-8 | Reagent Bottle with cap, Narrow mouth, HDPE, 8mL, 6x12 pcs. |
| CAPP-HD-N-15 | Reagent Bottle with cap, Narrow mouth, HDPE, 15mL, 6x12 pcs. |
| CAPP-HD-N-30 | Reagent Bottle with cap, Narrow mouth, HDPE, 30mL, 6x12 pcs. |
| CAPP-HD-N-60 | Reagent Bottle with cap, Narrow mouth, HDPE, 60mL, 6x12 pcs. |
| CAPP-HD-N-125 | Reagent Bottle with cap, Narrow mouth, HDPE, 125mL, 6x12 pcs. |
| CAPP-HD-N-250 | Reagent Bottle with cap, Narrow mouth, HDPE, 250mL, 6x12 pcs. |
| CAPP-HD-N-500 | Reagent Bottle with cap, Narrow mouth, HDPE, 500mL, 4x12 pcs. |
| HDPE Amber Colour Reagent Bottles, Narrow Mouth | |
| CAPP-HD-N-4-A | Reagent Bottle with cap, Narrow mouth, HDPE, 4mL, Amber, 6x12 pcs. |
| CAPP-HD-N-8-A | Reagent Bottle with cap, Narrow mouth, HDPE, 8mL, Amber, 6x12 pcs. |
| CAPP-HD-N-15-A | Reagent Bottle with cap, Narrow mouth, HDPE, 15mL, Amber, 6x12 pcs. |
| CAPP-HD-N-30-A | Reagent Bottle with cap, Narrow mouth, HDPE, 30mL, Amber, 6x12 pcs. |
| CAPP-HD-N-60-A | Reagent Bottle with cap, Narrow mouth, HDPE, 60mL, Amber, 6x12 pcs. |
| CAPP-HD-N-125-A | Reagent Bottle with cap, Narrow mouth, HDPE, 125mL, Amber, 6x12 pcs. |
| CAPP-HD-N-250-A | Reagent Bottle with cap, Narrow mouth, HDPE, 250mL, Amber, 6x12 pcs. |
| CAPP-HD-N-500-A | Reagent Bottle with cap, Narrow mouth, HDPE, 500mL, Amber, 4x12 pcs. |
| HDPE Reagent Bottles, Wide Mouth | |
| CAPP-HD-W-30 | Reagent Bottle with cap, Wide mouth, HDPE, 30mL, 6x12 pcs. |
| CAPP-HD-W-60 | Reagent Bottle with cap, Wide mouth, HDPE, 60mL, 6x12 pcs. |
| CAPP-HD-W-125 | Reagent Bottle with cap, Wide mouth, HDPE, 125mL, 6x12 pcs. |
| CAPP-HD-W-250 | Reagent Bottle with cap, Wide mouth, HDPE, 250mL, 6x12 pcs. |
| CAPP-HD-W-500 | Reagent Bottle with cap, Wide mouth, HDPE, 500mL, 4x12 pcs. |
| HDPE Amber Colour Reagent Bottles, Wide Mouth | |
| CAPP-HD-W-30-A | Reagent Bottle with cap, Wide mouth, HDPE, 30mL, Amber, 6x12 pcs. |
| CAPP-HD-W-60-A | Reagent Bottle with cap, Wide mouth, HDPE, 60mL, Amber, 6x12 pcs. |
| CAPP-HD-W-125-A | Reagent Bottle with cap, Wide mouth, HDPE, 125mL, Amber, 6x12 pcs. |
| CAPP-HD-W-250-A | Reagent Bottle with cap, Wide mouth, HDPE, 250mL, Amber, 6x12 pcs. |
| CAPP-HD-W-500-A | Reagent Bottle with cap, Wide mouth, HDPE, 500mL, Amber, 4x12 pcs. |
| LDPE Reagent Bottles, Narrow Mouth | |
| CAPP-LD-N-4 | Reagent Bottle with cap, Narrow mouth, LDPE, 4mL, 6x12 pcs. |
| CAPP-LD-N-8 | Reagent Bottle with cap, Narrow mouth, LDPE, 8mL, 6x12 pcs. |
| CAPP-LD-N-15 | Reagent Bottle with cap, Narrow mouth, LDPE, 15mL, 6x12 pcs. |
| CAPP-LD-N-30 | Reagent Bottle with cap, Narrow mouth, LDPE, 30mL, 6x12 pcs. |
| CAPP-LD-N-60 | Reagent Bottle with cap, Narrow mouth, LDPE, 60mL, 6x12 pcs. |
| CAPP-LD-N-125 | Reagent Bottle with cap, Narrow mouth, LDPE, 125mL, 6x12 pcs. |
| CAPP-LD-N-250 | Reagent Bottle with cap, Narrow mouth, LDPE, 250mL, 6x12 pcs. |
| CAPP-LD-N-500 | Reagent Bottle with cap, Narrow mouth, LDPE, 500mL, 4x12 pcs. |
| LDPE Reagent Bottles, Wide Mouth | |
| CAPP-LD-W-30 | Reagent Bottle with cap, Wide mouth, LDPE, 30mL, 6x12 pcs. |
| CAPP-LD-W-60 | Reagent Bottle with cap, Wide mouth, LDPE, 60mL, 6x12 pcs. |
| CAPP-LD-W-125 | Reagent Bottle with cap, Wide mouth, LDPE, 125mL, 6x12 pcs. |
| CAPP-LD-W-250 | Reagent Bottle with cap, Wide mouth, LDPE, 250mL, 6x12 pcs. |
| CAPP-LD-W-500 | Reagent Bottle with cap, Wide mouth, LDPE, 500mL, 4x12 pcs. |