ExpellPlus Low Retention Tips

Boost Laboratory Efficiency with Low Retention Tips
At CAPP, we understand the critical importance of precise liquid handling in laboratory procedures. Our Low Retention Tips, also known as Low Binding Tips, are specially designed to reduce the adhesion of materials like DNA, enzymes, proteins, and cells to the tip surface. By incorporating advanced polymer technology, we have created pipette tips with a highly hydrophobic inner surface, resulting in a significant reduction in sample loss due to adhesion.
Achieve Accurate and Reproducible Results with CAPP Low Retention Tips
Compared to ordinary pipette tips, our Low Retention Tips offer superior performance by reducing sample retention. This exceptional feature translates into improved sample accuracy, increased reliability, and savings on expensive reagents. With CAPP Low Retention Tips, you can confidently deliver samples precisely and enjoy the benefits of their 100% inert composition.
Discover the Advantages of Low Retention Tips for Molecular Biology Techniques
In the laboratory, certain liquids tend to adhere to pipette tips, adversely affecting the confidence interval of assays, especially those involving serial dilution. To overcome this issue, CAPP has developed a unique diamond finish Swiss Mold. This innovative technology creates a superhydrophobic internal surface that prevents any adhesion and ensures maximum recovery of sample yield.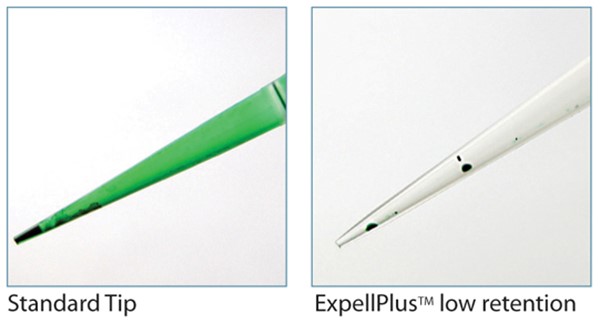 Improve Liquid Handling and Minimize Sample Loss with Low Retention Tips
Our manufacturing process involves no additives or chemicals such as slip agents or biocides. CAPP Low Retention Tips are made from virgin polypropylene resins without any trace of heavy metals, guaranteeing the utmost purity of your samples. Additionally, strict quality testing ensures that each tip is free from DNase, RNase, Pyrogen, Human DNA, and PCR inhibitors. The concentricity of liquid flow is homogenous, and our tips are produced aseptically with stringent quality standards in an automated facility.
Applications of Low Retention Pipette Tips
CAPP Low Retention Tips are specifically designed to meet the demanding requirements of molecular biology techniques. They excel in handling the most challenging samples, including:
Radioactive Compounds: Safely and accurately pipette radioactive substances with reduced sample loss, ensuring reliable measurements and minimizing contamination risks;
Viscous Materials: Overcome the difficulties associated with pipetting viscous samples by using CAPP Low Retention Tips, which provide precise and consistent liquid handling;
Fragile Cell Lines: Preserve the viability and integrity of delicate cell lines during pipetting procedures, thanks to the low adhesion properties of our tips;
Whole Blood: Achieve precise and reproducible results when working with whole blood samples, as CAPP Low Retention Tips minimize sample retention and enable accurate volume transfers;
Viruses: Handle and transfer viral samples with confidence, knowing that our Low Retention Tips minimize sample loss, thus improving the accuracy of viral analysis;
Difficult Proteins: Pipette challenging protein samples with ease using CAPP Low Retention Tips, which reduce material adhesion and enhance the efficiency of protein analysis techniques;
PCR Reagents and More: Experience enhanced reliability and reproducibility in pipetting PCR reagents, enzymatic solutions, and other sensitive substances critical for molecular biology experiments.
| Cat. No. | Description |
| --- | --- |
| 5030030C | ExpellPlus 10µl, sterile w/ filter, hinged racks, 5x10x96 pcs |
| 5030060C | ExpellPlus 10/20µl XL, sterile w/ filter, hinged racks, 5x10x96 pcs |
| 5030061C | ExpellPlus 10/20µl XL, Extra Narrow, sterile w/ filter, hinged racks, 5x10x96 pcs |
| 5030062C | ExpellPlus 20µl, sterile w/ filter, hinged racks, 5x10x96 pcs |
| 5030066C | ExpellPlus 100µl, sterile w/ filter, hinged racks, 5x10x96 pcs |
| 5030090C | ExpellPlus 200µl, sterile w/ filter, hinged racks, 5x10x96 pcs |
| 5030115C | ExpellPlus 300µl, sterile w/ filter, hinged racks, 5x10x96 pcs |
| 5030010C | ExpellPlus 10ul, clear, bag, 20x1000 pcs. |
| 5030020C | ExpellPlus 10µl, sterile, hinged racks, 5x10x96 pcs. |
| 5030040C | ExpellPlus 10µl XL, clear, bag, 20x1000 pcs. |
| 5030041C | ExpellPlus 10/20µl XL, Extra Narrow, clear, bag, 20x1000 pcs. |
| 5030050C | ExpellPlus 10µl XL, sterile, hinged racks, 5x10x96 pcs. |
| 5030051C | ExpellPlus 10/20µl XL, Extra Narrow, sterile, hinged racks, 5x10x96 pcs. |
| 5030070C | ExpellPlus 200µl, clear, bag, 30x1000 pcs. |
| 5030080C | ExpellPlus 200µl, sterile, hinged racks, 5x10x96 pcs. |
| 5030150C | ExpellPlus 1000 µl, sterile w/filter, hinged racks, 4x8x96 pcs. |
| 5030123C | ExpellPlus 1250µl XL, sterile w/filter, hinged racks, 4x8x96 pcs. |
| 5030130C | ExpellPlus 1000 µl (1250 µl), clear, bag, 20x500 pcs. |
Product literature (Download)