Premium-Grade Materials
CAPP Tecan® Type Robotic Tips are made of premium-grade virgin polypropylene, ensuring durability and reliability. These tips are designed to withstand the rigors of high-throughput liquid handling applications, maintaining their shape and integrity over numerous operations.
Versatile Options
We offer a range of Tecan® Type Robotic Tips, including carbon-embedded conductive tips and clear tips. The carbon-embedded conductive tips are ideal for applications requiring static-free handling and reduced liquid retention, while the clear tips are perfect for general liquid handling tasks.
Effective Contamination Prevention
With our Polyethylene filter, you can trust that your samples remain free from aerosol contamination during aspiration and dispensing. This feature is crucial for protecting valuable samples and maintaining data integrity.
Certified Purity
CAPP Tecan® Type Robotic Tips are manufactured from USP class VI resins and certified to be free of Endotoxin, Heavy Metals, RNase, DNase, and DNA. This high level of purity ensures that your experiments are not compromised by unwanted contaminants.
Multiple Formats
To cater to diverse laboratory requirements, our Tecan® Type Robotic Tips are available in non-sterile, sterile, and filtered sterile formats. Whether you are conducting cell culture work, PCR, qPCR, or any other sensitive application, we have the right format for you.
ISO-Certified Quality Assurance
We are committed to delivering products of the highest quality. AHN Tecan® Type Robotic Tips are manufactured in an ISO-certified 9001 and 13485, 100K clean room facility, meeting strict quality standards and ensuring consistent performance.
Applicational Scope of the Tecan® Type Robotic Tips
High-Throughput Screening:
Our tips excel in high-throughput screening applications, delivering reliable and precise liquid handling, even with large sample volumes.
Genomics and Molecular Biology:
Whether you are performing PCR, qPCR, or nucleic acid purification, our tips ensure contamination-free handling of precious nucleic acid samples.
Cell Culture and Assays:
For cell-based assays and tissue culture work, our tips offer consistent performance, ensuring accurate and reproducible results.
Drug Discovery:
the drug discovery process, where precise liquid handling is essential, our tips enhance efficiency and data quality.
Clinical Diagnostics:
With certified purity and contamination prevention features, our tips are perfect for clinical diagnostic applications, where accuracy and reliability are paramount.
Biobanking:
When handling valuable samples stored in biobanks, the quality and reliability of our tips ensure sample integrity is maintained.
Experience the Reliability and Precision Yourself
Put your trust in our exceptional quality to ensure flawless liquid handling in your laboratory. Experience firsthand the reliability and precision of CAPP Tecan® Type Robotic Tips. Revolutionize your liquid handling processes with our cutting-edge tips that guarantee accurate and reproducible results every time.
Optimize your liquid handling workflow with CAPP Tecan® Type Robotic Tips and experience efficiency and precision like never before!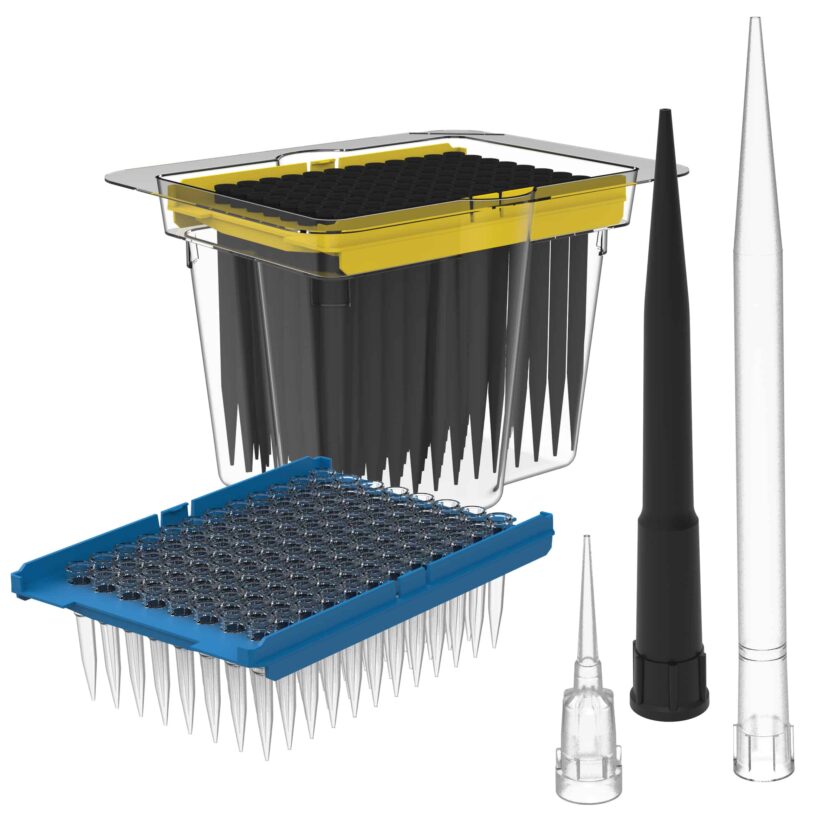 | Cat. No. | Description |
| --- | --- |
| | Tecan® type tips, conductive |
| WLB1304F50 | 10µl tips, standard, conductive, flip box, case / 5 x 10 x 2 x 96 tips |
| WLB1305F50 | 10µl tips, standard, filter, conductive, flip box, case / 5 x 10 x 2 x 96 tips |
| WLB1329F50 | 200µl tips, standard, conductive, flip box, case / 5 x 10 x 2 x 96 tips |
| WLB1330F50 | 200µl tips, standard, filter, conductive, flip box, case / 5 x 10 x 2 x 96 tips |
| WLB1404F50 | 1000µl tips, standard, conductive, flip box, case / 5 x 10 x 2 x 96 tips |
| WLB1405F50 | 1000µl tips, standard, filter, conductive, flip box, case / 5 x 10 x 2 x 96 tips |
| WLB1304B24 | 10µl tips, standard, conductive, individual blister pack, case / 24 x 96 tips |
| WLB1305B24 | 10µl tips, standard, filter, conductive, individual blister pack, case / 24 x 96 tips |
| WLB2304B24 | 10µl tips, sterile, conductive, individual blister pack, case / 24 x 96 tips |
| WLB2305B24 | 10µl tips, sterile, filter, conductive, individual blister pack, case / 24 x 96 tips |
| WLB1329B24 | 200µl tips, standard, conductive, individual blister pack, case / 24 x 96 tips |
| WLB1330B24 | 200µl tips, standard, filter, conductive, individual blister pack, case / 24 x 96 tips |
| WLB2329B24 | 200µl tips, sterile, conductive, individual blister pack, case / 24 x 96 tips |
| WLB2330B24 | 200µl tips, sterile, filter, conductive, individual blister pack, case / 24 x 96 tips |
| WLB1404B24 | 1000µl tips, standard, conductive, individual blister pack, case / 24 x 96 tips |
| WLB1405B24 | 1000µl tips, standard, filter, conductive, individual blister pack, case / 24 x 96 tips |
| WLB2404B24 | 1000µl tips, sterile, conductive, individual blister pack, case / 24 x 96 tips |
| WLB2405B24 | 1000µl tips, sterile, filter, conductive, individual blister pack, case / 24 x 96 tips |
| | Tecan® type tips, clear |
| WLB1302F50 | 10µl tips, standard, clear, flip box, case / 5 x 10 x 2 x 96 tips |
| WLB1303F50 | 10µl tips, standard, filter, clear, flip box, case / 5 x 10 x 2 x 96 tips |
| WLB1327F50 | 200µl tips, standard, clear, flip box, case / 5 x 10 x 2 x 96 tips |
| WLB1328F50 | 200µl tips, standard, filter, clear, flip box, case / 5 x 10 x 2 x 96 tips |
| WLB1402F50 | 1000µl tips, standard, clear, flip box, case / 5 x 10 x 2 x 96 tips |
| WLB1403F50 | 1000µl tips, standard, filter, clear, flip box, case / 5 x 10 x 2 x 96 tips |
| WLB1302B24 | 10µl tips, standard, clear, individual blister pack, case / 24 x 96 tips |
| WLB1303B24 | 10µl tips, standard, filter, clear, individual blister pack, case / 24 x 96 tips |
| WLB2302B24 | 10µl tips, sterile, clear, individual blister pack, case / 24 x 96 tips |
| WLB2303B24 | 10µl tips, sterile, filter, clear, individual blister pack, case / 24 x 96 tips |
| WLB1327B24 | 200µl tips, standard, clear, individual blister pack, case / 24 x 96 tips |
| WLB1328B24 | 200µl tips, standard, filter, clear, individual blister pack, case / 24 x 96 tips |
| WLB2327B24 | 200µl tips, sterile, clear, individual blister pack, case / 24 x 96 tips |
| WLB2328B24 | 200µl tips, sterile, filter, clear, individual blister pack, case / 24 x 96 tips |
| WLB1402B24 | 1000µl tips, standard, clear, individual blister pack, case / 24 x 96 tips |
| WLB1403B24 | 1000µl tips, standard, filter, clear, individual blister pack, case / 24 x 96 tips |
| WLB2402B24 | 1000µl tips, sterile, clear, individual blister pack, case / 24 x 96 tips |
| WLB2403B24 | 1000µl tips, sterile, filter, clear, individual blister pack, case / 24 x 96 tips |
| | TECAN® & LiHa® are registered trademarks of Tecan Trading AG |