Your Ultimate Solution for Precise Pipetting
Convenient and Reliable Bulk Pipette Tips
Welcome to our world of Expell and ExpellPlus Bulk Pipette Tips! Designed to enhance your pipetting experience, our tips come in self-standing and self-sealing plastic bags, providing unparalleled ease of use and storage. Whether you use them directly from the bag or prefer manual refilling into CAPP racks, these tips are sure to elevate your pipetting efficiency. Each bag is thoughtfully labeled with a catalogue and batch number, simplifying identification and organization.
Crystal Clear Clarity and Precision Graduation Marks
Our CAPP Bulk Pipette Tips are engineered with excellence in mind. Enjoy a premium design coupled with crystal clear clarity, ensuring optimal visibility during pipetting tasks. The accurate graduation marks enable precise measurements for consistent results every time. With various lengths available within the same volume range, you can confidently tackle diverse applications without compromising on accuracy.
Affordable Excellence: Perfect Choice for Cost-Conscious Customers
At CAPP, we believe that quality should be accessible to all. Our Bulk Pipette Tips are the perfect choice for customers who value both performance and affordability. Manufactured under stringent conditions, these tips adhere to the same high standards as all other CAPP tips. Certified according to RNase, DNase, DNA, and Pyrogen free standards, you can trust in their reliability and safety.
Universal Compatibility for Seamless Pipetting
Say goodbye to compatibility concerns! CAPP Bulk Pipette Tips are engineered to provide universal compatibility with all major pipette brands on the market. This means you can integrate our tips seamlessly into your existing pipetting workflow, eliminating any hassle or worry about compatibility issues.
Uncompromised Quality in a Clean-Room Facility
At CAPP, quality is our top priority, and we leave no room for compromise. Our Bulk Pipette Tips are manufactured in a state-of-the-art clean-room facility, ensuring the highest level of cleanliness and sterility. This meticulous approach eliminates the risk of contamination and guarantees exceptional product quality for your peace of mind.
Elevate Your Pipetting with CAPP Bulk Pipette Tips
Expell and ExpellPlus Bulk Pipette Tips offer unparalleled convenience, precision, and affordability for all your pipetting needs. Whether you are a seasoned professional or a research enthusiast, these tips are the ideal companion for accurate and consistent pipetting results. Join countless satisfied customers who trust CAPP for their pipetting requirements, and experience the difference our quality and innovation can make in your laboratory. Choose CAPP Bulk Pipette Tips for excellence you can rely on.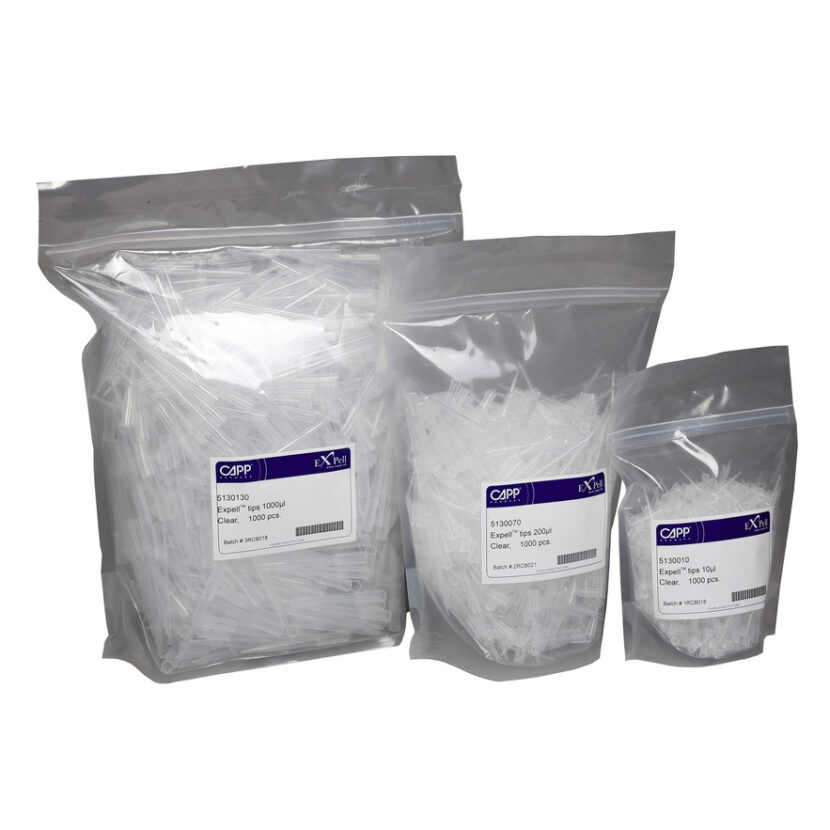 1
Certified
according to RNase, DNase, DNA and Pyrogen free standards
2
Compatible
with all major pipette brands on the market
Expell Bulk Filter Tips
| Cat. No. | Description |
| --- | --- |
| 5131030C | Expell 10 µL, bag, w/filter, 20×1000 pcs. |
| 5131060C | Expell 10/20 µL XL, bag, w/filter, 20×1000 pcs. |
| 5131061C | Expell 10/20 µL XL, extra narrow, bag, w/filter, 20×1000 pcs. |
| 5131062C | Expell 20 µL, bag, w/filter, 10×1000 pcs. |
| 5131066C | Expell 100 µL, bag, w/filter, 10×1000 pcs. |
| 5131090C | Expell 200 µL, bag, w/filter, 10×1000 pcs. |
| 5131150C | Expell 1000 µL, bag, w/filter, 10×1000 pcs. |
Expell and ExpellPlus Bulk Non-filter Tips
| Cat.No. | Description |
| --- | --- |
| 5130010C | Expell 10 µL, clear, bag, 20×1000 pcs. |
| 5030010C | ExpellPlus 10 µL, clear, bag, 20×1000 pcs. |
| 5030012C | ExpellPlus 10 µL, sterile, clear, bag, 5×400 pcs. Individually wrapped |
| 5130040C | Expell 10 µL XL, clear, bag, 20×1000 pcs. |
| 5030040C | ExpellPlus 10 µL XL, clear, bag, 20×1000 pcs. |
| 5130041C | Expell 10/20 µL XL, extra narrow, clear, bag, 20×1000 pcs. |
| 5030042C | ExpellPlus 10 µL XL, sterile, clear, bag, 5×400 pcs. Individually wrapped |
| 5130070C | Expell 200 µL, clear, bag, 30×1000 pcs. |
| 4130075C | Expell 200 µL, yellow, bag, 30×1000 pcs. |
| 5030070C | ExpellPlus 200 µL, clear bag, 30×1000 pcs. |
| 5030072C | ExpellPlus 200 µL, sterile, clear, bag, 5×400 pcs. Individually wrapped |
| 5130100C | Expell 300 µL, clear, bag, 10×1000 pcs |
| 5030130C | ExpellPlus 1000 µL (1250 µL), clear, bag, 20×500 pcs. |
| 5130130C | Expell 1000 µL (1250 µL), clear, bag, 20×500 pcs. |
| 4130135C | Expell 1000 µL (1250 µL), blue, bag, 20×500 pcs. |
| 5130132C | Expell 1000 µL (1250 µL), sterile, clear, bag, 5×200 pcs. Individually wrapped |
| 5130120C | Expell 1250 µL XL, clear, bag, 20×500 pcs. |
| 5130160C | Expell 5000 µL, clear, bag, 10×250 pcs. |
| 5130192C | Expell 5500 µL, clear, bag, 8 x 250 pcs. |


Product literature (Download)