CappHarmony Serological Pipettes
Experience Accurate Liquid Measurement with CAPP Harmony Serological Pipettes
CAPP Harmony Serological Pipettes are the go-to choice for precise and reliable liquid measurement and transfer. With their advanced features and high-quality construction, these pipettes ensure optimal performance in various laboratory applications.
Accurate Measurements with Precision Graduation Marks
Equipped with precision graduation marks on the pipette body, CAPP Harmony Serological Pipettes allow for accurate volume measurements. Whether you're working in cell culture, bacteriology, or scientific research, these pipettes provide the confidence you need in your experiments.
Effortless Identification and Usage with Color-Coded Heads
Simplify your workflow with CAPP Harmony Serological Pipettes' color-coded heads. Each pipette head features different capacity specifications and color codes, making it easy to identify and select the appropriate pipette for your specific requirements. No more time wasted on guesswork or confusion.
Guard against Cross-Contamination with Filter Plugs
The pipette heads of CAPP Harmony Serological Pipettes are equipped with filter plugs, adding an extra layer of protection against cross-contamination during sample aspiration. This innovative feature ensures the integrity and purity of your samples, yielding accurate and reliable results.
Enhanced Compatibility and Convenience
CAPP Harmony Serological Pipettes feature an optimized pipette head design, making them compatible with a wide range of commonly used pipettors. This compatibility allows for seamless integration into your existing laboratory setup, providing enhanced convenience and versatility.
Durable Construction for Long-Lasting Performance
Crafted from high-quality polystyrene (GPPS), the pipet body of CAPP Harmony Serological Pipettes ensures durability and long-lasting performance. Designed to withstand the rigorous demands of daily laboratory use, these pipettes are built to last.
Compliance and Safety
CAPP Harmony Serological Pipettes' pipet filters are made of polyolefin (PO), conforming to USP CLASS VI standards. This guarantees the highest level of quality and safety in your laboratory experiments, providing peace of mind and confidence in your results.
Trust CAPP Harmony Serological Pipettes to deliver precise, reliable, and contamination-free liquid measurement in your laboratory or research facility. Experience the difference of these advanced pipettes and achieve accurate results every time.
See below the features of CAPP serological pipettes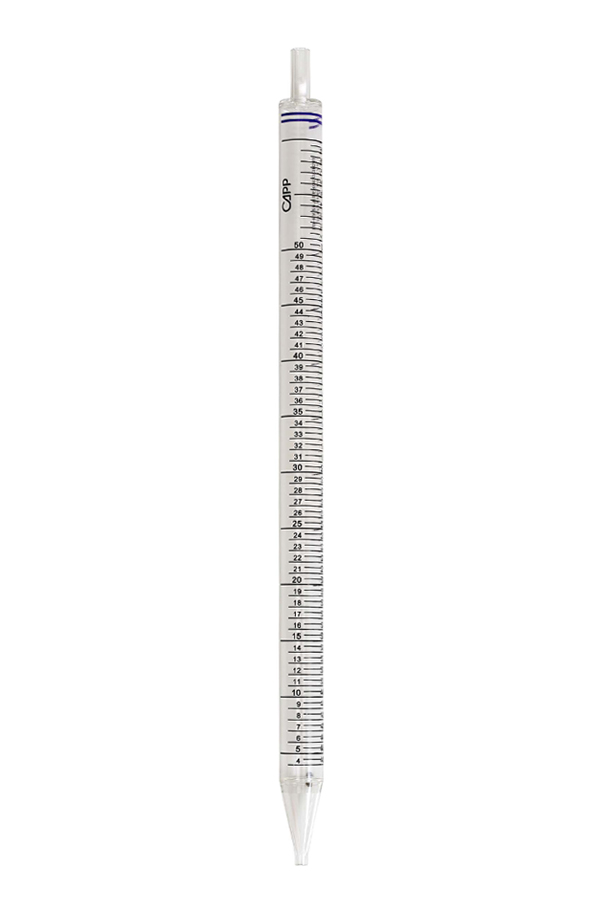 1
2
3
1
Sterile, Pyrogen free and cotton plugged
2
Individually wrapped
3
Sharp, Black and highly legible graduations
| Cat. No. | Description | Color |
| --- | --- | --- |
| SP-1-C | Serological pipettes 1mL, individually wrapped, 500 pcs. | Yellow |
| SP-2-C | Serological pipettes 2mL, individually wrapped, 500 pcs. | Green |
| SP-5-C | Serological pipettes 5mL, individually wrapped, 200 pcs. | Blue |
| SP-10-C | Serological pipettes 10mL, individually wrapped, 200 pcs. | Orange |
| SP-25-C | Serological pipettes 25mL, individually wrapped, 150 pcs. | Red |
| SP-50-C | Serological pipettes 50mL, individually wrapped, 100 pcs. | Purple |
| SP-100-C | Serological pipettes 100mL, individually wrapped, 50 pcs. | |
Product literature (Download)