Go Green with CAPP – Sustainable Plastic Labware Production for the Life Sciences
Sustainable plastic labware production should not just be a byword that is thrown into marketing material without supporting evidence for an organization's positive impact on the environment. At AHN Biotechnologie GmbH sustainable labware production is such a fundamental aspect of our manufacturing approach that we consider it part of our DNA. Sustainable plastic labware production is baked into every part of our production flow, and it is reflected in all our products. Join us on a journey through the positive changes that we have been implementing at AHN Biotechnologie GmbH over the years to produce sustainable lab consumables.
We use 40% less electricity to produce our Sustainable Lab Consumables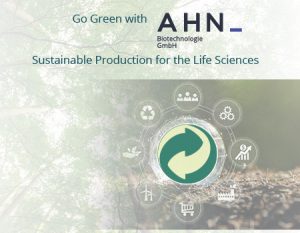 While many life science manufacturers depend on older hydraulic technologies for injection molding, our production facility has fully transitioned to electrical injection molding. Electric injection molding consumes up to 40% less electric power from the grid, resulting in less energy consumption. In addition to this, our production facility uses the latest electrical injection molding technologies that offer faster production turnaround and superior quality sustainable lab consumables. This reduces our overheads, allowing us to pass the savings on to our clients by supplying premium sustainable lab consumables at a fraction of what other manufacturers charge.
On the top of that, by 1st January 2023, we will have ZERO CO2 emission during electricity production.
Check out our Green Electricity Certificate EN
Sustainable Labware based on 100% recycled plastic
The positive impact of sustainable plastic labware production on the environment cannot be ignored. The surge in global demand for pipette tips during the last pandemic underscored our responsibility as manufacturers in reducing the impact of the products that we supply. As part of our efforts to ensure a green future, we recycled over 11 million pipette tips in 2021 alone. All these recycled tips were reintroduced into our manufacturing pipeline and used to manufacture AHN plastic rack boxes. Currently, our Nordhausen facility manufactures 100% of AHN plastic rack boxes using sustainable plastic labware production approaches. This closes the loop on our production flow by rechanneling used sustainable lab consumables into the production flow.

Sustainable Lab Consumables: The ZERO-plastic pipette tip racks
As one of the most innovative, sustainable lab consumables on the market, CAPP filter pipette tips are also supplied in ecofriendly and robust cardboard racks. This way you can eliminate 100% of the plastic burden related to using racks for pipette tips storage and operation. These revolutionary pipette tip racks are manufactured using CAPP's sustainable labware pipeline and they offer several advantages over plastic racks. First, the cardboard material that we use is robust, offering comparable longevity to plastic racks. This means that you can expect your CAPP Expell tips in cardboard racks to last until the very last tip has been used. Second, the coated cardboard minimizes the risk of lint collecting on the external or internal surfaces of the tip. This lowers the probability of contamination and error. Additionally, CAPP cardboard racks are easy to recycle, and they save users a lot of workbench real estate. Go to product Filter Tips.

Sustainable Labware: Our ZERO-plastic cryostorage solutions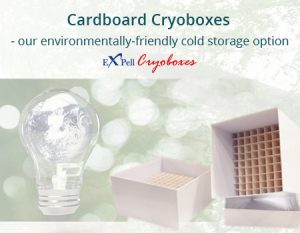 Complementing CAPP filter pipette tips in cardboard racks, CAPP cardboard cryoboxes are some of the most sustainable lab consumables for preserving samples at low temperatures. Each cardboard cryobox is manufactured from responsibly sourced raw materials following the same principles of sustainable labware production that we use for our other products. The result is easy-to-recycle, durable, water-resistant, and thermostable cold storage sustainable labware for life science specimens and reagents. In addition to their sustainable labware prowess, CAPP cardboard cryoboxes offer users the flexibility of using a 9×9 grid or a 10×10 grid to separate samples. For larger samples, the grid can be removed altogether making these sustainable lab consumables adaptable to various storage situations. The success of these sustainable lab consumables keeps fueling our zeal toward refining our sustainable plastic labware production approaches toward a green future. Go to product Expell Cardboard Cryoboxes.
Sustainable Plastic Labware Production - 100% reusable products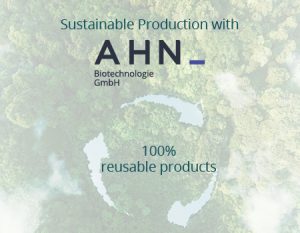 Our sustainable plastic labware production pipeline has produced plastic rack boxes that do not compromise on our commitment to quality. Each of these sustainable lab consumables is reusable multiple times over. This includes multiple autoclave cycles as well as multiple cold-storage cycles. This further reduces the plastic burden on the environment, ensuring that all products of our sustainable plastic labware production are used for much longer in the laboratory and beyond. When these sustainable lab consumables finally reach end-of-life, they have unlimited upcycling options that help keep the environment clean for much longer. Our vision for sustainable plastic labware production balances the need to produce excellent plastic products with our responsibility to provide solutions to the global plastic burden.
Sustainable Labware: 59% less plastic, 65% transportation space saved
All sustainable plastic labware production approaches must address the key role of transportation in the movement and delivery of sustainable lab consumables. By optimizing the packaging of our raw materials and sustainable labware, CAPP can ensure faster product shipments with a reduced carbon footprint. This is best illustrated by our increasingly popular Expell Tip Refill System. This system reduces the amount of space used by conventional tip packaging approaches. As a result, we can save as much as 65% cargo space per shipment. This is space that can be used to fit more sustainable lab consumables, maximizing the effective load capacity of the shipment method. Such sustainable plastic labware production approaches also reduce the excess emissions produced by transport vehicles by reducing the number of trips with each delivery of sustainable labware. Additionally, with CAPP Expell refill tips you save as much as 59% plastic in your lab, when compared to traditional racked pipette tips. This results in lower carbon emissions during transportations and waste disposal, as well as more competitive pricing for consumers. Go to product Expell Reloading Tips.
.

Beyond the assembly line - Sustainable Plastic Labware Production in packaging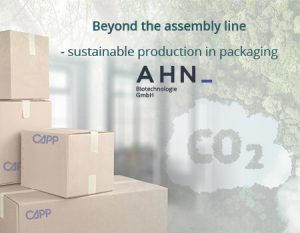 At the tail end of the sustainable plastic labware production line, as our sustainable lab consumables are made ready to ship, sustainable labware packaging begins. As anyone who has opened a brand-new package of laboratory consumables would know, packaging often requires a lot of plastic material to keep products in their best shape. Our solution to the plastic burden in packaging is "responsible reduction" by shipping sustainable lab consumables with less plastic. This has allowed us to transition to as low as zero additional plastic ingredients in several of our sustainable lab consumables. With this packaging approach, each order of CAPP's sustainable labware carries the mark of excellent quality while being more ecofriendly. For critical products that are best packed in plastic packaging, we manufacture the packaging material from recyclable polypropylene. This is then fed back into the sustainable plastic labware production pipeline through the green dot program.
Green Dot Certification: Committed to Sustainable Plastic Labware Production
As part of our commitment to a closed loop approach to sustainable plastic labware production, all our products are part of the Green Dot Certification program (German 'Der Grüne Punkt'), ensuring all our packaging is recyclable. This is a worldwide program that facilitates the movement of sustainable labware and packaging at end-of-life back to manufacturers for recycling. Through the Green Dot Certification, we are part of an international program, partnering with our global clients to make sure that sustainable lab consumables remain sustainable at end of life by feeding them back to the sustainable plastic labware production flow.
Note: Der Grüne Punkt was founded in 1990 as the first dual system. As the first system of its kind worldwide, it has been providing nationwide collection of used sales packages and obtains raw materials from them for the closed-cycle economy. Today Der Grüne Punkt is a leading provider of take-back systems.
In order to liberate industrial firms and retailers from their individual take-back and recovery obligations under the German Packaging Ordinance, Der Grüne Punkt established a second (dual) disposal system besides the public-sector waste disposal service. As the first system of its kind worldwide, it has since 1991 been providing nationwide collection of used sales packages and obtains raw materials from them for the closed-cycle economy.
The Green Dot ("Der Grüne Punkt") is worldwide protected and one of the most widely used trademarks. In many countries it is used as a financing symbol for packaging recycling. Der Grüne Punkt is a founding member of the European Grüner Punkt umbrella organization PRO Europe.
More information under: About us | Der Grüne Punkt (gruener-punkt.de)

The Ecotrade program - reducing waste with Sustainable Lab Consumables
In addition to the recycling initiatives for used sustainable labware and packaging, we have started a recycling program for old pipettes – regardless brand and condition. Through this program, customers can forward their old, and defunct pipettes to us through a local distributor. These will then be forwarded to our sustainable plastic labware production facility where the pipettes will be meticulously stripped of their various components. The various materials making up the different components will then be recycled in accordance with regulatory requirements.  This program is not only limited to CAPP branded pipettes. We accept pipettes from other brands as a service to our customers in their responsible recycling endeavors. By choosing CAPP, you actively contribute to global lab waste reduction! Go to product ecopipette Single Channel.

AHN Biotechnologie GmbH: Your partner for Sustainable Lab Consumables!
Our success in adopting sustainable plastic labware production is largely in part to the dedicated commitment of our wonderful customers, the leadership of our administrative staff, along with the unwavering support of each employee. Sustainable plastic labware production is a key part of our future. We will continue leading the way in developing cost-effective sustainable lab consumables through sustainable plastic labware production approaches to make our products even better. By purchasing CAPP sustainable lab consumables, you partner with us in protecting the environment. With AHN sustainable plastic labware production, you do not have to sacrifice quality while going green. By going green with CAPP, you can save the environment, and save money while doing so.