Introducing CappHarmony Serological Pipettes

Wide scope of application
With a diverse scope of application, CappHarmony serological pipettes are a great fit for routine liquid dispensing protocols* in academic, research and industrial laboratories. Scientists working with a variety of chemical solutions and reagents for experimental protocols will enjoy the CappHarmony pipetting experience as it brings excitement to what may otherwise be considered a mundane task. So, whether you work in a teaching laboratory incubating the next generation of scientists, or you are at the cutting edge of innovation and research, changing the world in big and small ways, CappHarmony serological pipettes blend into your workflow, transforming it for the better. Here are a few examples to illustrate just how versatile they are.
Cell and tissue culture laboratories are known for having stringent quality requirements where only the best instruments are mandatory for ensuring successful experiments. Scientists that regularly work with such protocols will be pleased to note that CappHarmony serological pipettes are tested and certified non-haemolytic (ISO 10993-4), endotoxin-free (C.5 Eu/MI; ISO TO993-11) and cytotoxin-free (ISO 10993-5) which makes them ready for cell and tissue culture. That equates to less worrying and more culturing.
Microbiologists and scientists in related fields will appreciate the fact that CappHarmony pipettes are gamma-irradiated for maximum sterility and microbe-free pipetting. This makes them great disposable pipettes for applications in clinical, research and industrial laboratories, where absolute sterility is key to the success of many experimental and testing protocols. These sterile, non-pyrogenic pipettes also feature an effective filter barrier that helps prevent sample contamination by dust particles or vapour.
As with all other CAPP laboratory instruments, CappHarmony serological pipettes have a nifty feature set that is both clever and practical. They boast an elegant design and practical features that are outlined below.
Our commitment to you
True to our motto, CappHarmony serological pipettes, are part of a full line of CAPP liquid measurement products that feature a robust design, outstanding craftsmanship and the highest standard of precision. Our dedication to quality has made CAPP products the preferred choice for many of the best laboratories around the globe. We are committed to providing you with the best instruments for your laboratory's needs, and CappHarmony serological pipettes are a great example of our promise. Contact us today to arrange for free samples for testing.
*Scientists should always ensure that the liquids they are handling are compatible with polystyrene
**This feature is limited to pipettes with rated capacities greater than 1ml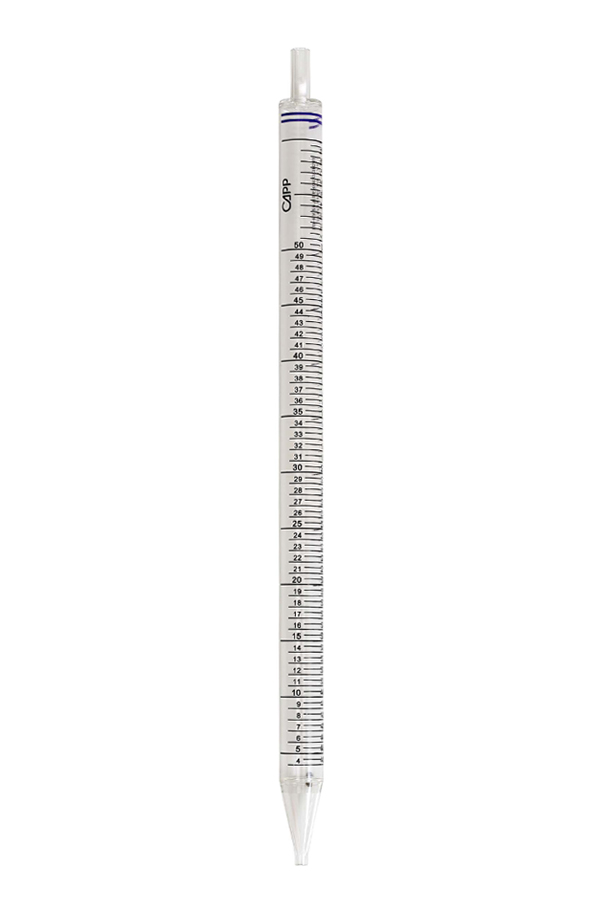 1
2
3
1
Sterile, Pyrogen free and cotton plugged
2
Individually wrapped
3
Sharp, Black and highly legible graduations
Each CappHarmony serological pipette is constructed from medical-grade, transparent polystyrene for great visual acuity. With sharp, black, permanent graduations the forward and reverse readings** ensure a precision of up to +2% when measuring fluids for pipetting. This is particularly useful in boosting the pipetting skills of budding new scientists or helping the senior sage whose sight may be less than optimal.
Generous negative graduations
CappHarmony serological pipettes have generous negative graduations which can be handy in many scenarios. Using the negative graduations, it is possible to dispense a small volume of liquid multiple times, especially when the desired volume is slightly above the pipette's rated capacity. A good example would be a scientist pipetting a liquid volume of 4ml, three times, using a 10ml pipette. With a CappHarmony 10ml serological pipette, this is not only possible, but very easy, especially when combined with the CappTempo pipette controller which is described below.
Universal mouthpiece design
The uniform mouth piece that comes standard with all CappHarmony serological pipettes ensures a great fit for the most common pipettors across the market. This is great for those labs that are getting started with the CAPP experience that may already have pipettors from other suppliers. For the best experience we recommend using your CappHarmony serological pipettes with the revolutionary CappTempo pipette controller.
Compatible with motorised pipette controllers
All CappHarmony serological pipettes are designed to work seamlessly with the revolutionary CappTempo pipette controller and comparable products from major suppliers. Featuring a digital display, adjustable filling speed, and an electronic braking system, the CappTempo pipette controller takes the CappHarmony experience to a whole new level. Scientists can pipette with an unprecedented degree of control and precision.
Colour coded for easy identification
The pipettes are colour coded for easy identification. The colours correspond to the rated capacity of the pipettes, making it easy for busy scientists to always pick the correct size on the fly. The packaging is also colour coded for a consistent user experience, a mark of our commitment to the finer details.
Diverse sizes and packaging
CappHarmony serological pipettes are manufactured with varying liquid handling capacities to meet the diverse pipetting needs of each laboratory. The varying volumes namely 1ml, 2ml, 5ml, 10ml, 25ml, 50ml, and 100ml ensure that our customers always have the right tool for each pipetting task. All serological pipettes are supplied individually wrapped, in bags with 50 to 500 pieces, depending on the size of the pipette.
| Cat. No. | Description | Color |
| --- | --- | --- |
| SP-1-C | Serological pipettes 1mL, individually wrapped, 500 pcs. | Yellow |
| SP-2-C | Serological pipettes 2mL, individually wrapped, 500 pcs. | Green |
| SP-5-C | Serological pipettes 5mL, individually wrapped, 200 pcs. | Blue |
| SP-10-C | Serological pipettes 10mL, individually wrapped, 200 pcs. | Orange |
| SP-25-C | Serological pipettes 25mL, individually wrapped, 150 pcs. | Red |
| SP-50-C | Serological pipettes 50mL, individually wrapped, 100 pcs. | Purple |
| SP-100-C | Serological pipettes 100mL, individually wrapped, 50 pcs. | |