New and Improved: CAPPSolo Single and Multichannel Pipettes

Micropipettes with a remodeled ergonomic design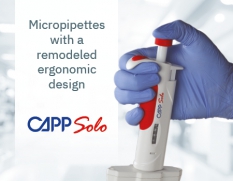 Reflecting on the twenty-year legacy of CAPPAero and CAPPBravo lab pipettes we elected to preserve the design language that our customers have come to love. Featuring an elegant design that blends beauty and ergonomics, CAPPSolo lab pipettes are both beautiful to behold and comfortable to hold. With the CAPPSolo micropipette range, scientists can pipette for hours on end without feeling fatigued or suffering from the negative effects of repetitive strain injury. When not in use CAPPSolo lab pipettes add an aesthetic touch to the workbench.
Lab pipettes with enhanced durability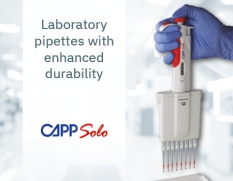 The new CAPPSolo lab pipettes are built to last so as to offer our customers the long service they expect from their micropipettes. Each CAPPSolo single or multichannel micropipette is manufactured from heat resistant materials that allow it to be autoclaved multiple times without any need of re-adjustment. This makes it easy to decontaminate the micropipettes in between usage cycles. In addition, the new CAPPSolo lab pipettes offer improved chemical resistance against common laboratory chemicals as well as enhanced bump protection. This makes them the perfect lab pipettes for training laboratories that are frequented by students and interns that are still developing their pipetting skills.
Lab pipettes with removable rubber inserts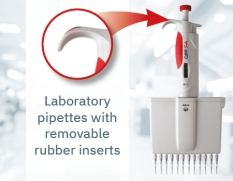 CAPPSolo lab pipettes feature removable rubber inserts that provide a touch of personalization. The exchangeable color-coded inserts can be used to categorize the micropipettes for different applications, pipetting volumes, or users. This makes it extremely easy to quickly sort various micropipettes and avoid the uncomfortable situations that often come up when people share their lab pipettes. Such a level of personalization was important for us because we understand that the happiest people are those that can do what they love using tools that they love.
Metal construction for higher precision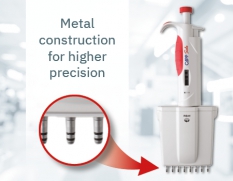 The multichannel variants of CAPPSolo micropipettes feature crucial components in metal that offer increased precision and reliability at an affordable price. This translates to improved longevity without a loss of pipetting accuracy. With the metal components, CAPPSolo multichannel lab pipettes retain their calibration settings over many more liquid transfer sessions as compared to other options on the market.
Get your free sample today
We are so excited about the brand-new CAPPSolo single and multichannel micropipettes and we cannot keep the joy to ourselves. We know that you will fall in love with the new CAPPSolo line of micropipettes as soon as you handle one, so we're offering you a free sample. Order yours today!
CAPP, truly accurate, truly robust!
Default form
"*" indicates required fields