qPCR pipetting: The CAPPMaestro Advantage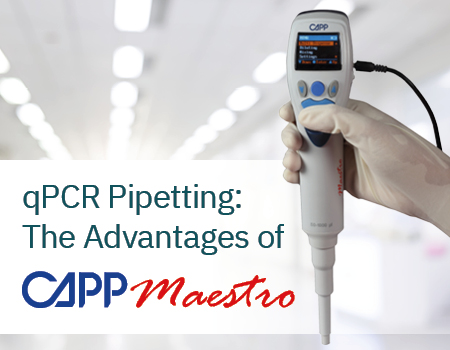 Since their introduction, Quantitative Polymerase Chain Reaction (qPCR) based assays have seen a huge surge in popularity owing to their elevated levels of sensitivity. The success or failure of qPCR depends on several factors, one of which is the choice of pipette for qPCR along with the qPCR pipetting technique. From the preparation of the master mix to its dispensing into wells, qPCR pipetting can go wrong without the correct pipette for qPCR. In this article, we will give a lowdown on the advantages of using CAPPMaestro electronic qPCR pipettes in the preparation of replicable and successful master mixes for qPCR assays.
Distraction-free qPCR pipetting
User error owing to distractions in the laboratory environment is often blamed for errors in qPCR pipetting. CAPPMaestro qPCR pipettes feature a beautiful, full-color OLED display designed to improve user focus. With high refresh rates and excellent color contrast, the OLED display on CAPPMaestro electronic qPCR pipettes makes it easy to focus on the task at hand, minimizing the chances of costly errors that can ruin a whole assay. Adjusting qPCR pipetting volume and other settings is also easy thanks to the intuitive user interface of this modern pipette for qPCR. With the CAPPMaestro electronic pipette for qPCR, scientists can focus better, improving their qPCR pipetting skills with each use of this outstanding qPCR pipette.
Ergonomic pipette for qPCR
Many qPCR pipetting errors are attributable to the use of a poor pipetting technique. Although many resources are available online discussing methods of improving your skill when you pipette for qPCR, very few of these touch on the importance of pipette ergonomics. The CAPPMaestro line of electronic qPCR pipettes is designed to improve user comfort, reducing the incidence of pipetting errors when preparing qPCR master mixes. With a lightweight construction and accessible finger and thumb rests, CAPPMaestro electronic qPCR pipettes offer unparalleled user comfort throughout the master mix preparation.
Try out the CAPPMaestro electronic qPCR pipette today!
The CAPPMaestro electronic pipette for qPCR is in a league of its own, helping you achieve better results with your qPCR master mixes. You can experience the convenience of this uniquely poised pipette for qPCR by ordering a free demo unit through our global distributor network. Just a single experience with the CAPPMaestro electronic pipette for qPCR is all it takes for our customers to order more for all their qPCR pipetting needs. You too can experience for yourself the power of this revolutionary pipette for qPCR with one of our distribution partners around the world. CAPPMaestro electronic qPCR pipettes, truly accurate, truly robust!
Try out the CAPPMaestro electronic qPCR pipette today!
Highly reproducible qPCR pipetting
After successful qPCR master mix preparation, it is important to dispense equal volumes of the reagent into PCR wells. Each CAPPMaestro electronic pipette for qPCR is supplied with a multi-dispense mode that gives it superior reproducibility over manual pipettes. This operation mode is easily accessible via the beautiful OLED display on this advanced pipette for PCR, and it allows sequential dispensing of master mix into sample wells. The multi-dispense mode of CAPPMaestro qPCR pipettes guarantees superior volume accuracy for highly reproducible results in all qPCR workflows. As a bonus, the multi-dispense mode of CAPPMaestro pipette for qPCR reduces the number of tips used – making your workflow more environmentally friendly.
Long battery life for extended qPCR pipetting
CAPPMaestro qPCR pipettes feature the latest lithium battery technology offering long, uninterrupted qPCR pipetting sessions. This allows users to prepare large volumes of master mix for multi-sample qPCR pipetting without worrying about exhausting the battery life on their electronic qPCR pipette. Unlike comparable electronic qPCR pipettes using LCD screens, the OLED display on the CAPPMaestro pipette for qPCR consumes less power, allowing it to run for much longer. In the unlikely event your CAPPMaestro electronic qPCR pipette runs out of juice, the device can be plugged in and used while charging.