How can the CAPPRondo Tube Roller streamline your processes?
CRR-08X Fibre Body Tube Roller gently rolls samples in the laboratory offering a steady and even mix without causing sedimentation.
The CAPPRondo Tube Roller is designed for use in laboratories to mix blood samples, viscous liquids and liquid-solid suspensions. It can accommodate up to 15 x 7mL blood tubes and it not only rolls but offers gentle rocking and pulse functions to ensure thorough mixing. The rollers are removable without any special tools to allow for easy cleaning or replacement and also re-setting to suit tubes of different diameters.
Why choose the CAPPRondo Tube Roller?
CAPPRondo Tube Roller has a large, intuitive digital display, offering speeds of up to 80 rpm and time settings between 1 and 99 minutes. It has the capacity to store up to 9 user-defined protocols. It should be placed out of direct sunlight for optimum operations, but it will happily work with 80% humidity. As with all CAPPRondo benchtop machines, the Tube Roller is fitted with a brushless DC motor meaning it is maintenance free and ideal for extended operational runs.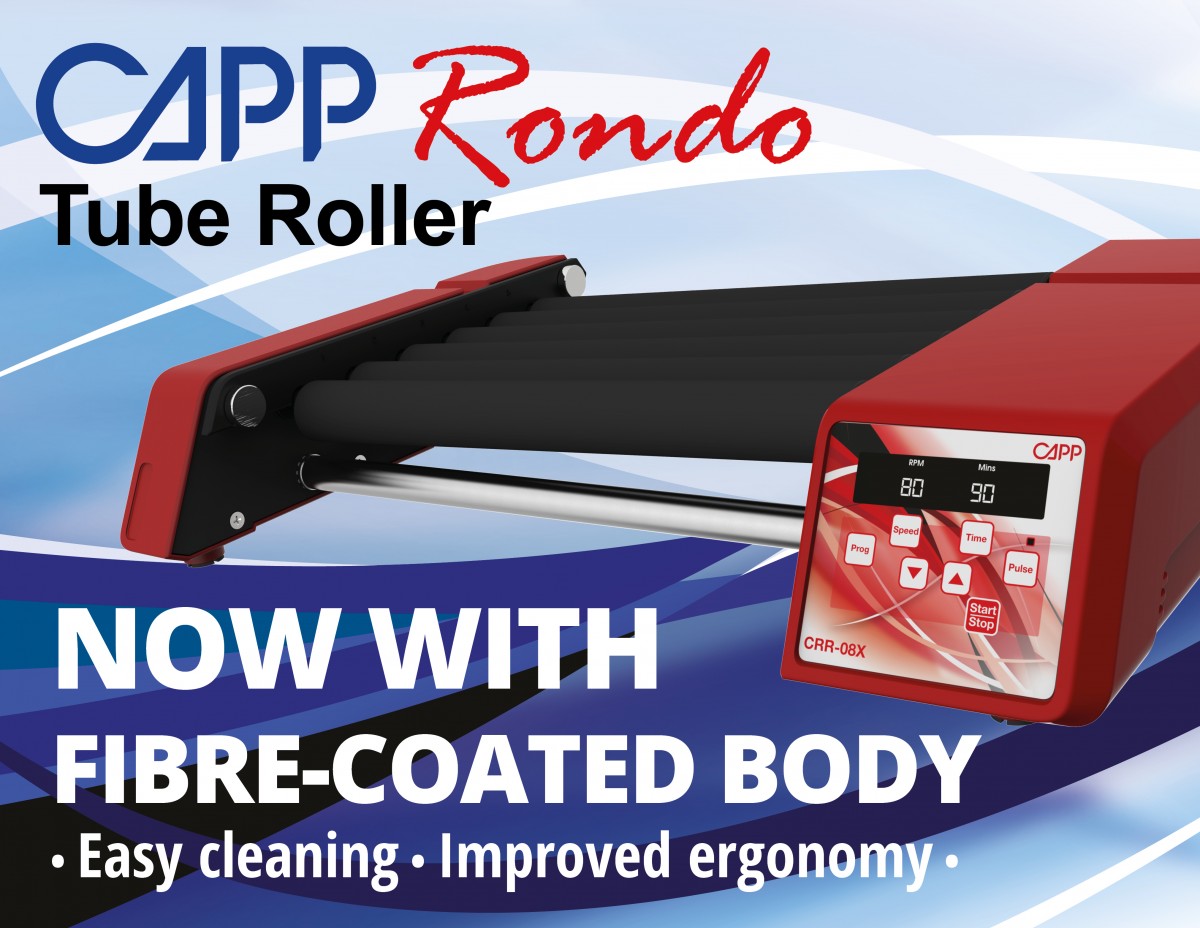 CAPPRondo Tube Roller now in Fibre-Coated Body!
The metal housing of CAPPRondo Tube Roller has been replaced with a Fibre-Coated material, meaning that the famously quiet CAPPRondo Tube Roller is now even quieter and – again because of the new fibre body – is less prone to vibration. The new fibre body also has other positive points over the previous model, it is free from any chance of rusting or rust spots because it now has a much higher resistance to water and humidity damage. This means that the Tube Roller will maintain it's appearance for longer. It is also much easier to clean following any spillages or during general maintenance of the laboratory.
Further reasons to choose CAPPRondo Tube Roller
• The new fibre body means that the Tube Roller maintains the strength of the previous metal-bodied model, but is more ergonomically designed, making it look more streamlined
• The new fibre coating makes the Tube Roller lighter and easier transportable
• CAPPRondo Tube Roller has a compact footprint making it ideal for laboratories where space is at a premium.
• The fresh red colour of the new fibre body will add a welcome contrast to the usual clinical laboratory setting, it not only makes the Tube Roller stand out, it makes you want to use it.
With its small footprint, lightweight, ease of moving the rollers, low noise and vibration levels and the fact that it is efficient to operate at high humidity levels, and now its fibre body offering both ease of cleaning and longer life, the CAPPRondo Tube Roller will be an excellent addition to any laboratory looking for an excellent blood mixer roller.