CAPPRondo High-Speed Mini Centrifuge

With a conveniently small footprint the CappRondo mini centrifuge is ideal for space constrained laboratories. Its modest frame (230W x 262D x 131H mm) comfortably occupies 0.65 ft2 of space, which is equivalent to the size of 1 sheet of paper. The unique airflow design minimises sample heating and reduces noise generation for comfortable desktop operation. So, whether you are running your assays on a large workbench with easy access, or working in a confined laminar-flow cabinet, the CappRondo mini centrifuge is ready for you.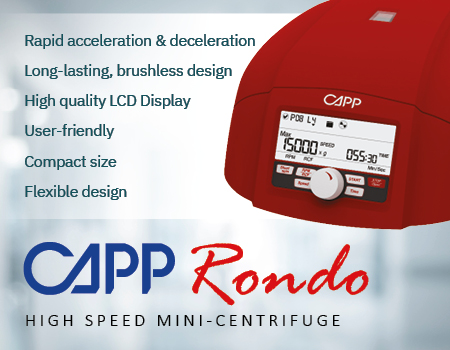 For a centrifuge this compact, the CappRondo mini is amazingly fast and powerful. Capable of achieving speeds of up to 15000 rpm (15596g) with rapid acceleration and deceleration, this mini centrifuge will efficiently separate samples for molecular analysis, simplifying downstream processing. The DC motor can run at high speed for extended periods without performance dips because of its brushless design. Without brushes to wear out the motor runs silently (< 62 dB) and is guaranteed to last for an exceptionally long time.
Large, easy to use control panel
Equipped with a large dial and high-quality LCD display, the CappRondo mini centrifuge allows for comfortable adjustment of settings. Featuring the largest display in its class operators have easy access to all critical control parameters. The intuitive interface is designed to aid novices and experienced scientists' setup and go in the least possible time. Large, legible typefaces and intuitive iconography make it a pleasure to navigate through the control panel.
Broad range of sample sizes
The CappRondo mini centrifuge is versatile and can comfortably accommodate a broad range of sample sizes and tube configurations. The standard rotor can hold up to 12 regular tubes (1.5 – 2.0 mL) for spinning samples in common assays. The centrifuge is also supplied with reduction adapters designed to accommodate smaller microtubes (0.2 – 0.4 mL). An optional strip rotor is available for use with 2 x 8 x 0.2 mL strips. The rotor is designed to work best with Expell Secure Micro Tubes while supporting tubes from most major brands.
Integrated safety features
The CappRondo mini centrifuge has a lid-lock safety braking system designed to protect users from accidental opening of the lid before the rotor completely stops. Once the centrifuge completes a programmed run the lid will automatically open for convenient access to samples and to protect them from warming. A metal safety lid covers the aluminium rotor to maximise user safety during centrifuge operation. The centrifuge is also equipped with imbalance detection features, notifying the operator of uneven loads to prevent damage to the centrifuge.
Try it today
To experience the CappRondo high-speed mini centrifuge, contact us today. We will link you with a local distributor and send a free sample to your laboratory. So, what are you waiting for, sign-up today and enjoy the CappRondo experience!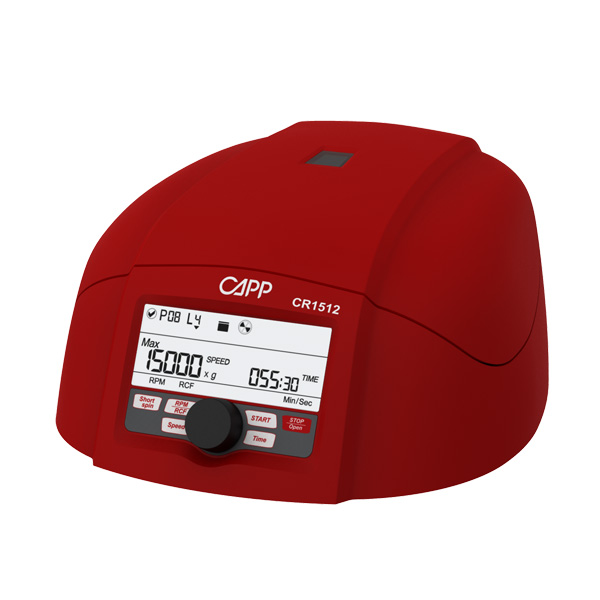 1
2
3
1
High speed Brushless DC motor maintenance free & fit for extended runs
2
Very less noise level < 62db
3
Large backlit LCD display showing set parameters